Brussels Wharf and Shadwell Basin Renovation Works
The St Katharine & Wapping Safer Neighbourhood Ward Panel has been actively engaged with Tower Hamlets Council in relation to ongoing issues of ASB and criminal damage at Shadwell Basin. Following years of neglect the basin is showing significant signs of disrepair. Graffiti vandalism and "tagging" in particular have created an unwelcoming environment. This contributes to a general sense of apprehension on the part of residents, who sometimes boycott the area because of unease and fears for their safety. As fewer residents make proper use of the basin for recreation, it attracts more anti-social behaviour. This in its turn reinforces the negative perception of the location.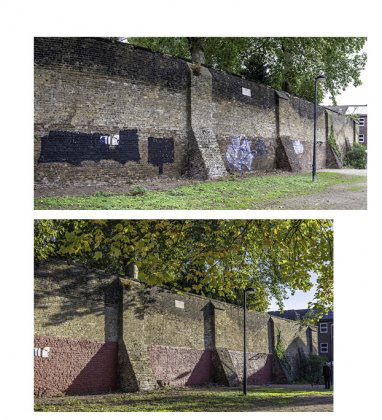 The Ward Panel are happy to announce that significant re-decoration of Shadwell Basin commenced on the 10th September. The works will take approximately 10 – 14 days (depending on other operational demands on the team), and include removal of all graffiti. Jet-washing will be used for cleaning where possible. Where this is not practical, over-painting will be carried out in a way that seeks to minimise its impact, and leave a uniform appearance. This is a departure from the piecemeal, random patchwork over-painting done previously. Re-painting will also include bollards, bins, life buoy stands, and the historic iron dock rope ties (though not at present the dockside chains due to costs). If possible, benches in the open area behind St Paul's Church will be repaired and renovated. The Ward Panel hopes that this schedule of works will lift the appearance of the location, and encourage more residents to use it as a local amenity again.
It should be noted that the Tower Hamlets Clean and Green Team, including their new Graffiti Team, engaged with this project in an exemplary way. Staff were quick to agree to meet with the Ward Panel and the Outdoor Activity Centre in August, and subsequent to that during an inspection of Shadwell Basin in early September, the Graffiti team leader made several well considered suggestions. They implemented their work very efficiently with no more than a week of lead time after the inspection. Grateful acknowledgement is made by the Ward Panel for the level of commitment and expertise shown by them at all phases of their engagement.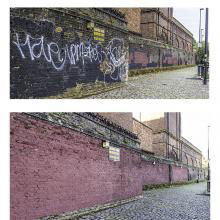 The St Katharine and Wapping Safer Neighbourhood Ward Panel - September 2018
(a non-political Group of Volunteers, working with the Police, Local Authority and Residents to make the Ward a Safer
Place in which to live and work)